Description:
The EDI Digital Innovation Hub (DIH) is an integral part of a non-profit public research institute "The Institute of Electronics and Computer Science" (EDI), which was founded in 1960. EDI is specializing in the development of Smart Embedded Cooperative Systems in the fields of health, mobility, production and space, and through dedicated R&D and technology transfer activities brings various technologies to companies worldwide.
The main aim of EDI DIH is facilitating the exploitation of our technologies and know-how, meanwhile helping companies to digitize, thus allowing them to develop new or transform existing technologies, products and services as well as to increase productivity and quality, reduce costs, establish new markets, etc. Our ambition is to establish a long-term collaboration with companies, ensuring sustainability in research directions and constant demand for our services.
.
Sectoral coverage: EDI-DIH provides its services for the following market sectors: agriculture, forestry, construction, transport, communication, information technology, electronics, healthcare, and manufacturing..
Technological focus: Robotics, Wearables, Signal Processing, Algorithms, Embedded systems, Cyber-Physical systems, Event Timers, Electronics, Wireless communication, Image processing, Machine perception, Custom HW, Self-driving cars, Data acquisition, Sensors and systems, Cooperative driving, Artificial intelligence, TestBeds, Internet of Things, AIoT, FPGA, SoC, Real-time systems, Motion tracking, Explainable AI, Embedded intelligence, Machine Learning, Industrial systems, space technologies, earth observation, remote sensing, space-grade electronics, satellite image processing, Drone technologies, prototyping, Localization, Ultra-wideband radars, Biometrics, Simulators, Computer vision, Smart systems, Chip design, Android, IoT, UWB, Ultra-sound technologies, Mobile agents, 5G, Security. .
Customer types: • Companies willing to adopt EDI technology modules; • Companies looking for new or custom digital solutions which are not available in the market (R&D expertise); • Companies willing to commercialize EDI technologies. SMEs (typical companies), LE..
Service Offering:
A. TEST BEFORE INVEST
Strategic support to Research, Development and Innovation (RDI) (e.g., mentoring, consultations).
Contract research (e.g., specific R&D (mostly TRL3-6), technology concept formulation, PoC systems).
Technical support on scale up (e.g., prototyping, concept validation).
Testing and validation (e.g., testing HW for shock, vibration, temperature and humidity variations, etc.).
Provision of infrastructure (e.g., access to state-of-the-art R&D and testing equipment and infrastructure).
Test EDI technologies before invest (e.g., test EDI technology modules on your application before licensing).
B. SUPPORT TO FIND INVESTMENT
Support to find appropriate funding programs (e.g., consultation about various funding mechanisms, instruments and programs, suggestion of most appropriate, requirements for participation, etc.)
Strategic and business development (e.g., consultation on how to improve technological processes and where to invest, technology maturity assessment, etc.)
Support facilities and accelerator support (e.g., access to basic infrastructures and house offering, access to infrastructure and technological platforms)
C. INNOVATION ECOSYSTEM AND NETWORKING
Ecosystem scouting, engagement and management (e.g., Trend watching, Technology and third-party scouting, Ecosystem mapping, Ecosystem management, Networking, events and initiatives…)
Ecosystem coordination for projects (e.g., identification of opportunities, creating consortia, development of proposals…)
D. SKILLS AND TRAINING
Training (e.g., executive courses, lectures, on-site company tailored training / boot-camps, e-learning)
Among these services, the most demanded are contract research and licensing.
.
In terms of cooperation with other Hubs, we look for:
GEOGRAPHICAL PROXIMITY:
Neither
SIMILAR TECHNOLOGICAL FOCUS:
Important
COMPLEMENTARY SERVICE OFFERING:
Important
SIMILAR SECTORAL COVERAGE:
Important
OTHER RELEVANT ASPECTS:
Connection with potential clients, network.
YOUR NEED IN ONE SENTENCE:
Finding new clients for R&D contract-research activties or licensing of our technologies.
NAMES OF THE HUBS YOU WOULD LIKE TO MEET:
Finding new clients for R&D contract-research activties or licensing of our technologies.
Delegate 1: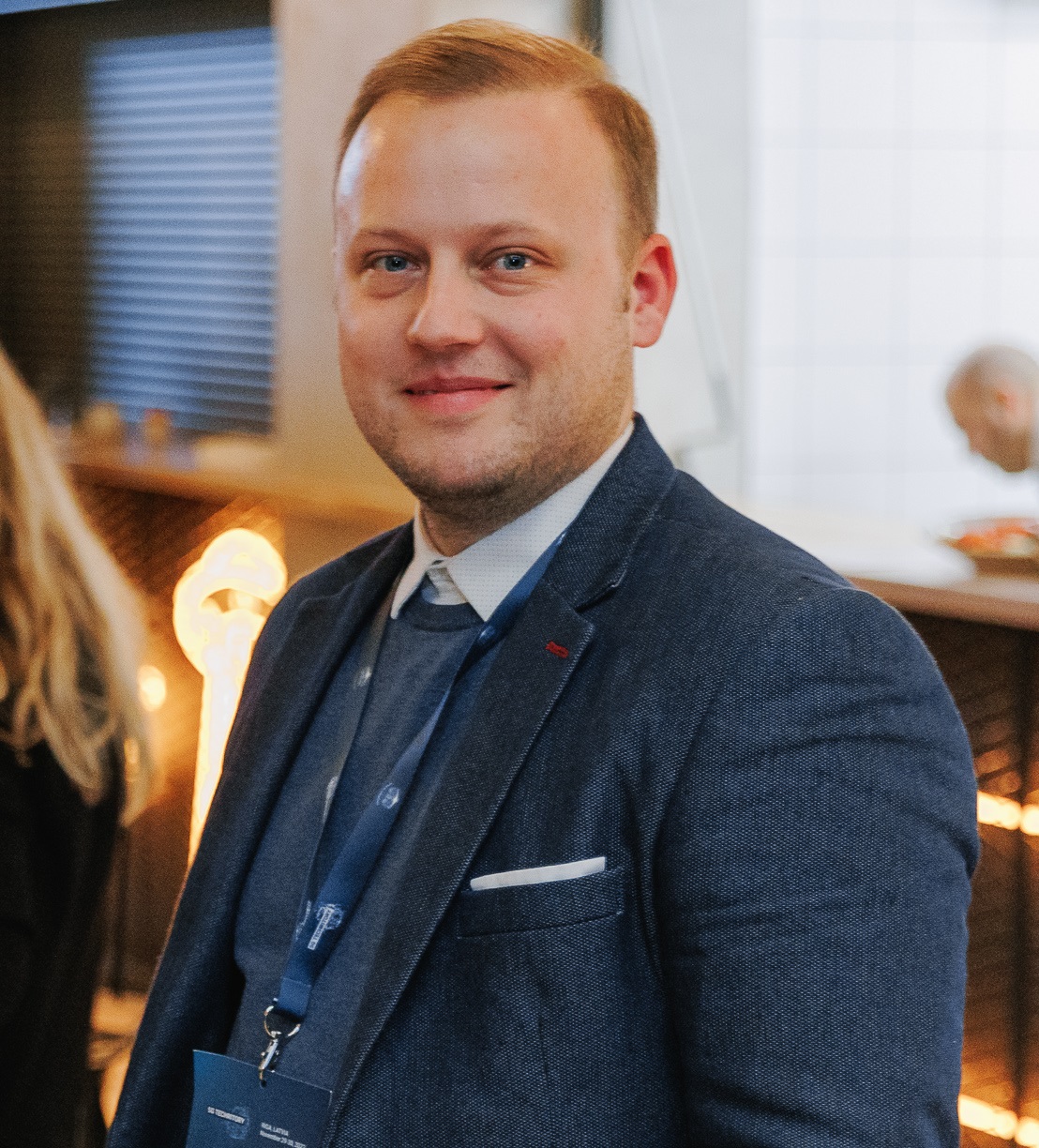 >
Kaspars Ozols

Delegate 2:
>